Last week I promised to share my weight loss journey with you and that I would look for some photos to go with the story. Well, you're in luck, I found more photos than I thought I had.
While I was pregnant with my last baby I suffered from gallbladder attacks during the last half of the pregnancy. I never had it checked out and instead found a way to deal with the pain. After the baby was born I had a persistent pain in the upper right side of my back which almost never went away. If I swept, mopped, or worked a bit in the garden my back would hurt a lot and I'd have to rest until it felt better. I still wouldn't admit that it was my gallbladder and just thought my back was weak.
2 months after my last baby(#8) was born, November 2008.
During the pregnancy and afterwards I was pretty good about staying low carb and not eating grains. Now I think I was just not absorbing many nutrients from my food because of the gallbladder not working right and that is why I had such a hard time losing weight even though I was eating well. I slowly lost weight but I was always hungry and felt like I had to eat a lot of food and was never satisfied.
December 2008- I had already lost about 5 pounds, I think.
I think those pants were a size 22. I wore an XXL shirt if I remember correctly.
I tried eliminating dairy after my baby had a spot of eczema show up on his ankle and that seemed to help for awhile. I really had to keep my carbs down or the weight would start to come back on.
November 2009- Finally down to my usual post pregnancy weight of the low 190s after a year of work.
I started the GAPS(Gut and Psychology Syndrome Diet) sometime in 2010. After about a month the gallbladder attacks started again. One night I played Wii tennis with my husband for about an hour and had two attacks the next day which sent me to bed for a week. I started going to a chiropractor for the pain in early 2011 but still didn't want to admit it could be my gallbladder.
November 2010- I'm not sure what I weighed here. I lost my records but maybe 5 pounds less than the photo above.
Size 16 pants and xl shirt
Every time I worked a little hard in the garden that spring and summer I'd end up in bed for a week recovering. If I stopped my activity and ate carefully at the first sign of pain I could ward off an attack. In August I had a pretty bad attack and then two or three more the same week which finally convinced me to go to urgent care. I was diagnosed with a huge stone(3cm) and scheduled for surgery. I had to keep my diet very low fat and quit eating eggs or I had lots of pain and trouble sleeping. I lost about 5 pounds in the three weeks I waited for surgery.
During recovery I continued to keep my fat intake very low and lost a few more pounds. I was still eating lower carb and no grains or dairy so getting over 1500 calories was difficult. As I got better I was able to eat more fat and calories but I didn't gain any weight back and continued to slowly lose.
November 2011- around 178
Size 12-14 and med/large top
This March I decided to go on another elimination diet(Specific Carb Diet) to improve my digestion and other symptoms and lost 6 pounds in a month since I wasn't eating many calories as I could only eat chicken, broth, and carrots. I get to slowly add foods back in and watch for symptoms to find the foods that cause trouble for me.
Now- 166 at 5'10" tall
Size 8/10 and Medium top
Don't I have a cool flip flop tan on my feet?
I would like to lose about 5 more pounds and tighten up my abs. I finally feel well and energetic again.
So there you have it, that is how I lost about 50 pounds over the last 3.5 years. To sum up:
* I ate a grain and sugar free diet the whole time.
* I also cut out dairy part of the time but have recently reintroduced homemade yogurt.
* I kept my carbs in the lower range(less than 100 grams) most of the time.
* I don't eat anything from a box and prepare all of my food from scratch.
* I eat a lot of protein. 35+ grams per meal.
* Right now my fat percentage is about 40% a day with my calories from carbs and proteins almost equal at around 30% each. I'm getting about 2300 calories a day which might be a little low for me as I'm 5'10" and moderately active.
I try to listen to what my body needs and will eat more or less protein or carbs depending on how I feel each day. You could call my diet Paleo, Low-Carb, or Specific Carb Diet.
During the journey I was not afraid to experiment with my diet and spent a few months trying to eat potatoes and sweet potatoes. They don't work will with my digestion so I had to cut them out. I also love dark chocolate and ate it most of the time but it also causes problems for me so I keep it to a minimum(few times a month) or totally out of my diet. It's been a long journey but I continue to learn what my body needs to be strong and healthy. I'm not frustrated with not eating cookies, breads, and pastas because I feel so much better without them. It's not hard for me to stick with my eating plan because if I don't I don't feel well. This is not about will power for me but about feeling strong, young, and healthy! Plus, looking decent and buying cute clothes is a nice side effect!
*I have focused on diet in this post because I think it is more important than exercise for losing weight. I do exercise. I try to lift weights one to two times a week, I walk at least 10,000 steps a day(just from daily walking around to keep my home and garden going), and I work in my garden for 1-2 hours. My goal is to do 10 real push-ups(I can do 5), 1 pull up and run for 30 minutes without stopping. I need to go on a test run 'cause I think I can do that already. I have used interval training off and on but not since January. As I get stronger I walk around more and work harder in the garden. I also do ab work every day to rehab my diastasis recti(mummy tummy)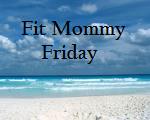 I'm linking up over at Tea Time With Annie Kate for Fit Mommy Friday.