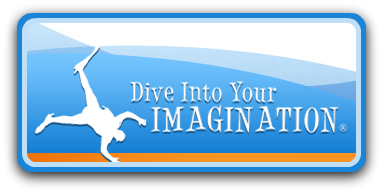 Dive Into Your Imagination
was created by
Annie Crawley
and sponsored by
Save Our Seas Foundation
to share the wonderful creatures of the ocean with children. Annie Crawley is an underwater photographer, boat captain, and dive instructor who traveled the world for over 15 years and is sharing her love of the ocean with children and their parents through her DVD's.
Five DVD's are available from Dive Into Your Imagination; The Camera Coach, Visions of The Sea, What Makes A Fish, A Fish, Who Lives In the Sea? and Dive Into Diversity. We received Dive Into Diversity to review. Here is the list of video clips in this 44 minute video for children in grades K-3:
*The Ocean Song
*Crusty Crustaceans
*Night Diving
*Coral Reef Living
*Be A Submarine Pilot
*Swim in a Kelp Forest
*Sea Animals With Backbone
*Diversity
*Invertebrates Of The Sea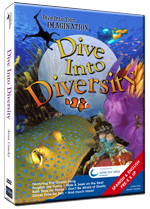 View a sample of the video here
Dive Into Diversity features beautiful videography combined with the narrator's enthusiastic voice and provides a fun and informative look at the ocean and the many creatures who make it their home. Each section is made relevant to children by explaining how ocean features are like land features, food ingredients that come from the ocean, diversity of ocean creatures compared to humans and the use of imagination.
Educator Guides are also available for each video in two different levels. One level is for grades PreK -K and the other is for grades 1-3. Each guide is made of 8 chapters, one for each section of the corresponding video, and each chapter includes 6-7 activity stations.
My children ages 3, 6, 8 and 10 were instantly captivated with this video. The music and narrator's voice were pleasant and the video was clear and beautiful. The narrator used humor here and there and my children laughed at some of the creatures they watched. I think they learned a lot and definitely enjoyed their visit with creatures under the sea.
This is a beautifully filmed DVD which showcases a pleasant way to learn more about the ocean. The Educator Guide is full of lots of worksheets and activities to help you dig as much as you can out of the video.
To purchase visit Dive Into Your Imagination
Dive Into Diversity DVD $19.95
Teacher's Guides
$299.00 printed a set for all of the videos
$69.95 PDF version for one video
*IF you order through
Annie Crawley's website
you will receive free shipping from now through June. Also make a note in the comments section that you are a homeschool parent and you will receive a PDF Teacher's Guide free with you DVD order.
Disclaimer: As a member of TOS Homeschool Crew I received a free DVD in order to write this review and have shared my honest opinion. To read more reviews please visit
TOS Homeschool Crew blog
.