Guess what? Yep, I'm wearing my size 10 Levi's! I guess I just needed a week of the Specific Carb Diet(SCD) to make them fit.
So this last week I didn't do much. We had the week off of school and my goal was just to survive the first week of the SCD. I did. I was able to add a little banana, yogurt cheese, and yellow squash to the
intro diet
. This weekend I plan to add some acorn squash. I'm not sure if the banana is good for me. I'm keeping an eye on my symptoms to see if I can find out if the banana or yogurt cheese is bothering me. It's a slow process but I am already feeling better. I'm hungry most days because I can only eat so much meat and broth and can't tolerate a lot of fat. My protein intake has been about 50% of my calories. As I introduce more veggies that should go down a bit.
If you have any questions please feel free to ask in the comments below or even send me a private message.
How did your week go?
I'm linking up with
Tea Time with Annie Kate for Fit Mommy Friday.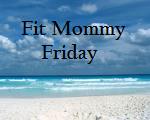 And Bought With a Price