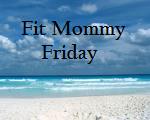 I had a good week. I've been walking about 10,000 steps per day and gardening for an hour each day. My new jeans are fitting a little more loosely. I didn't lift weights this week but I plan to next week. I will probably see if I can do 5 real push-ups tomorrow and work with the pull-up bar a bit. I can only push once a week or my back gets too sore.
Specific Carb Diet Update: I was able to add butternut and acorn squash this week and I tried banana again. Next week I plan to add pears, spinach and apples to my menu. I've been able to eat more calories so I haven't been as hungry this week which was nice. My tummy is feeling pretty good and my energy level is about back to normal.
I'm tired this week. I've been staying up too late. You would think being tired all afternoon would encourage me to go to sleep on time but I'd rather stay up late. I will try to get back on track with my sleep!
How did your week go?
I'm linking up at
Tea Time With Annie Kate for Fit Mommy Friday.