Paws & Tales, Biblical wisdom for kids
Being Kind & Caring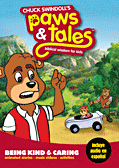 This 50 minute DVD contains two episodes, The Hullabaloo At Hunker Hill and The Great Go-Kart Race. Bonus features included are music videos, activities, and teaching resources for parents, grandparents, and church educators. You can watch the video in English or Spanish as both audios are included.
In episode #1 which is based on Matthew 18:21-22, the club must decide to seek revenge or forgive after Staci takes Hugh's derby car for a ride which ends up in disaster.
Episode #2 explores teamwork through a go-kart race and is based on Matthew 6:14.
My children ages 12, 10, 8, 6 and 3 enjoyed watching Paws and Tales. Each episode features cute bear characters who learn a lesson in how to treat others.
Hannah, age 12 said it was interesting and cool. They all went to build their own go-karts and it didn't really work.
I think this is a DVD my children will ask to watch again. I like the positive message portrayed in the stories.
Disclaimer: I received a free DVD from Tyndale Blog Network in order to write this review and have shared my honest opinion.