God's Great Covenant, A Bible Course for Children, New Testament 1, The Gospels by Claire A. Larsen
Free Sample of the Student Edition
God's Great Covenant is a new Bible Study Curriculum focused on the fulfillment of Old Testament prophecy from Classical Academic Press. It was written for children in grades 4+ and consists of 4 units containing a total of 36 chapters. Each chapter is designed to be taught over one week and includes a Memory Page, Story Time, Review Worksheets, and a Quiz. The end of each unit contains memory passage study pages for the unit's memory verses Worksheets, Devotional Guide, and another story to help children review what they have learned. In this study children will learn about four different aspects of Christ- the Son of Man, God's Servant, the Messiah, and the Son of God.
The large print Student Edition is a consumable workbook. The Teacher's Edition contains all of the student pages plus answer keys, notes for teacher comprehension and teaching and space to include your own notes. The mp3 format Audio Download is a recording of each Story Time section read by Christopher Perrin and is over 3 hours long.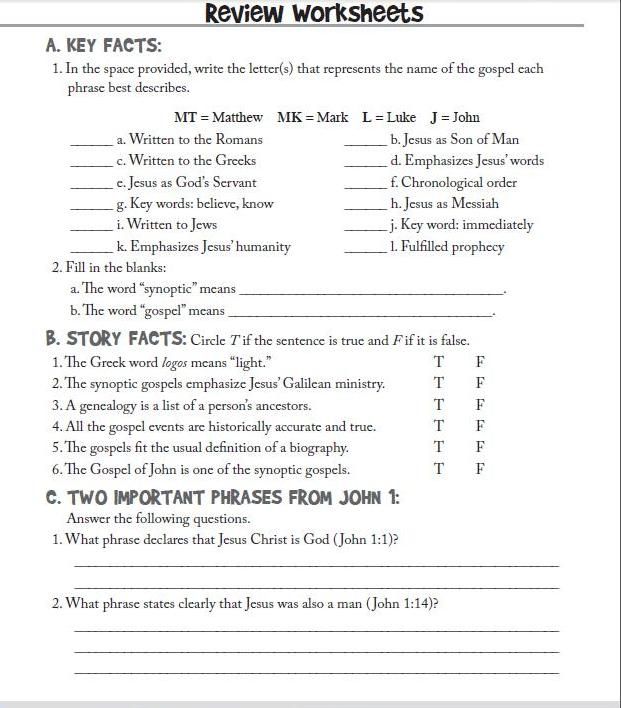 Free Sample of the Teacher's Edition
My children in grades 2, 4, and 6 and I enjoyed using this Bible study together. I read and discussed the intro page with them on the first day of studying each chapter. They listened to the story time audio recording after I introduced each lesson. On the second day I read the Bible passage aloud and we discussed it. I read a new passage each day until we had read all of them and then we went over the review pages. I didn't have my children fill out the page, I just read it aloud and we answered the questions together. If they missed any questions I went over the right answers with them and referred back to the lesson as necessary. I was surprised at how much they retained from each lesson.
My children enjoyed listening to the story-time recordings. I thought they were interesting and even my 3 year old payed attention.
A free sample of the audio recording is available here.
I learned a few new things as I read the introduction sections to my students. I appreciate the emphasis of Old Testament prophecy fulfilled that is the focus of God's Great Covenant. I feel it will give my students a deeper appreciation and knowledge of how the New Testament builds upon the Old Testament and God's perfect plan for salvation.
This curriculum was easy to implement and can be used for a wide range of ages. Classical Academic Press is writing curriculum to support the classical teaching philosophy. We use an eclectic mix of homeschooling methods and I think God's Great Covenant can be used by almost any type of homeschool. You can use it as we did by reading aloud from the book and using the worksheets more as discussion questions or you can assign each chapter for your child to work on independently. It is easily adapted to a wide range of teaching styles.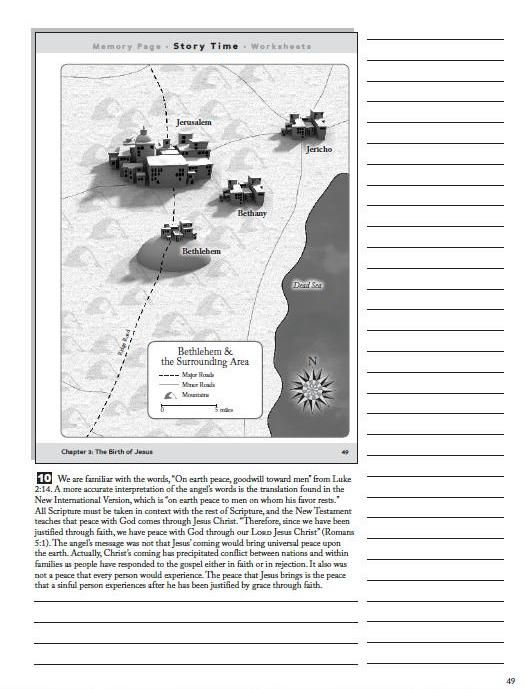 Classical Academic Press has also published God's Great Covenant Old Testament 1 and 2 and God's Great Covenant Old Testament Timeline and Map Set to help you teach the Bible to your children.
To purchase visit Classical Academic Press
God's Great Covenant New Testament 1 Bundle $56.95- Includes the Student Text, Teacher's Edition, and Audio Book Download
God's Great Covenant New Testament 1 Student Edition $26.95
God's Great Covenant New Testament 1 Teacher's Edition $29.95
God's Great Covenant New Testament 1 Audio Files $9.95
Disclaimer: As a member of TOS Homeschool Crew I received a free copy of this curriculum in order to write this review and have shared my honest opinion. To read more reviews by other homeschool teachers please visit
TOS Homeschool Crew blog.