I don't know my weight or measurements and it feels great not to stress about it! I'm doing well on giving up the scale and didn't cheat because I told my husband to hide it somewhere. I didn't even look for it!
*I went clothes shopping after writing this and I have dropped another size but only about 3 pounds(at my lowest weight before I quit the scale) since the previous one. Weird, but I'll take it. My Levi's are still too snug to wear though. Oh, well, maybe a few more weeks.*
I'm starting the
Specific Carb Diet intro
tomorrow. I've been working my way closer to it each day this week. Right now I'm hungry and I miss salad. I will stay on the intro for two days unless I need to go longer. I will be eating lots of broth with chicken and carrots. I also made some gelatin sweetened with a bit of honey to help me through the first two days. I can also eat broiled or boiled meats. Yeah, exciting, isn't it. Why am I doing this? I'm hoping it will help my tummy, allergies, back pain, hormone balance and skin. When I first started low carb my skin looked awesome for the first time since before I hit my teens. Now I always have at least one pimple even though I don't eat dairy, grains, or any processed foods.
I have gone through intro before but I think I added foods too quickly. You should only add one new food every three to four days to make sure you don't react to it. I will also try adding in yogurt and bananas after the first few days. I haven't had dairy in over a year and banana since I was preggo with that little guy you see above. I found an
interesting article about Haas' original version of the diet
and am convinced to try bananas to see if they help with fat digestion. I know my digestion is much better than it was because my gut feels calmer and I am healthier. Hopefully, I can get even better!
Not much exercise this week besides lots of steps 'cause, well, girl issues. Next week I will rest a lot and only do what I feel like I can without using a lot of energy. I'm glad we have the week off school for Easter!
How are you doing?
I'm linking up over at
Tea Time With Annie Kate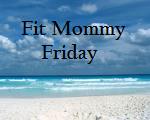 And at
Bought With a Price