Last year
we reviewed and enjoyed using All About Reading Level Pre-1
from
All About Learning Press
. This year we are using and loving All About Reading Level 1. I love, love, love this program! My 5 year old son also loves it. There now that I got that out of the way I can tell you a little more about how All About Reading works and maybe you will start to see why we love it so much. I will try to refrain from using love in this review again.
First up is a picture of the Level 1 Teacher's Manual, Activity Book, Level 1 Readers, Phonogram Cards, Word Cards and the nifty Bookmark Reading Tool which is included in the
All About Reading Level 1 Kit
. We received this along with the Deluxe Reading Interactive Kit which I will show you next.
The Deluxe Reading Interactive Kit
contains a Reading Review Box(file box for all of your flashcards), Letter Tiles and magnets, a Basic Phonogram CD-ROM, Reading Divider Cards, Reward Stickers, and a Reading Tote Bag to keep everything neat and ready to go. I keep all of our supplies in the reading tote by my son's school desk. He brings it to me every morning when we are ready to begin our lesson time. The tote bag is sturdy canvas and the perfect size for all of the supplies.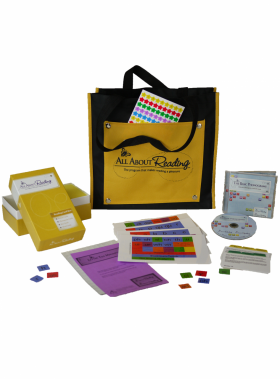 Below is everything together before I set up our new reading program. The materials are high quality and you can see the care that goes into these products as you unpack your box of goodies.
And now on to the lessons. There are two types of lessons in Level 1; new sounds and words and review. I will walk you through each lesson type.
In the teaching lessons, new sounds and words are introduced with phonogram and word flashcards. The teacher can review the proper formation of the new sounds with the Basic Phonogram CD-ROM. The Teacher's Manual also explains each sound if you have taught phonics before but need a quick reminder. Before the new teaching the child reviews the phonograms and words he has not yet mastered from previous lessons using flashcards. Below my son is practicing his new sounds with the flashcards.
After the new phonograms have been introduced and practiced you move on to blending practice using the letter tiles. It is convenient but not required to magnetize the letters and use them on a magnetic white board. Here we are using a small lap sized board but later we will use our large whiteboard so we can spread out all of the Letter Tiles. The tiles are used to form a word and then to change the word to a new one by swapping out the first or last tiles. Ex., rat becomes mat which then becomes man.
After using the word tiles the child gets to do an activity sheet from the Student Activity Book. The activities are usually a game or cut and paste type craft. Your student can also color the pages if he desires. My son enjoys playing the games again in his free time. His older siblings also enjoy playing the games with him for even more practice. So far his favorite game has been feeding words to the monster.
After a fun activity break the child receives new word cards to read. You file any words he still needs practice on in the review section of the file box and any he has read easily in the mastered section. I find the file box to be a wonderful tool to keep everything sorted out and ready for the next lesson. The phonogram cards are filed the same way in their own sections.
Most lessons also include a fluency sheet for further reading practice. Each fluency page has a section of new words, review words and simple sentences for the student to read. We like to use our reading tool with the fluency pages.
After the lesson is complete the child gets to put a reward sticker on his chart. There are 49 lessons in level 1. We spend 15 minutes each morning on our reading lesson and usually finish 4-5 lessons a week. In the afternoon I have my son read for 5-10 more minutes from his fluency sheet for extra practice. My son enjoys his lessons and is easily learning to read but if he was a reluctant reader or needed extra practice I would move a little slower and require 3 shorter reading sessions a day. The last part of the lesson is 20 minutes of read aloud time. I count any reading my son is present for as read aloud time so I didn't have to add it into our already busy homeschool schedule.
The second type of reading lesson includes a quick review of the phonogram and word cards and then the student reads two stories from one of the Level 1 readers.
The readers are beautifully illustrated, hardcover books with interesting stories, many of which my son found hilarious.
The Teacher's Manual is laid out lesson by lesson. You don't have to flip from section to section to read details. Everything you need for the day is written together in clear language with illustrations to help you see at a glance what to do. Questions are given to ask your student before he begins reading each story from the reader which should help build comprehension and thinking skills as he learns to read. Appendixes include a Scope and Sequence, Phonograms taught, Full Blending Procedure, Solving B-D Reversal Problems, A list of words taught in Level 1, and a few pages to include your own notes.
Here is a note I wrote in my journal about my experience using All About Reading with my son. "I'm very impressed with the progress Isaac has made through the first 10 lessons of AAR. We work for about 15 minutes each morning and then 5-10 minutes each afternoon. He usually needs the afternoon time to read the second story in his reader or work on his fluency page. If I remember I also have him read to his father in the evening for a little more practice. The change in activities during each lesson keeps him interested and working longer than if he were only reading a book or using a workbook. Lots of practice is included in each lesson with the word flashcards, phonogram cards and whiteboard activities. With a short lesson it is easy to keep a positive attitude and encourage my student. If the morning session is not going well I will shorten it and hope he does better in the afternoon, which he usually does. If I feel he is struggling I will just have him read the fluency sheet for our lesson time and wait to go on to the next lesson. This program is very easy to customize to the slower learner or the student who needs more practice before learning the next set of phonograms."
And now a word from my son. "It's fun, it's awesome. I learn how to read and it's really, really fun." He gives All About Reading Level 1 a big thumbs up and a smile.
To purchase All About Reading Level 1 please visit
All About Learning Press
.
Level 1 Kit $99.95
Deluxe Reading Interactive Kit $48.95
Basic Reading Interactive Kit $28.95
Kit components are also sold separately
As a member of TOS Homeschool Crew I received a free product in order to write this review and have shared my honest opinion. To read more reviews please visit
TOS Homeschool Crew blog
.