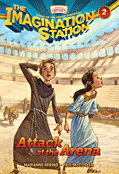 Beth and Patrick are off on another adventure. This time they will visit ancient Rome as they search for a silver chalice in order to save Albert from the mysterious Lord Darkthorne. The cousins enter the imagination station, a time machine, in Mr. Whitacker's workshop and exit in an arena in ancient Rome. A tiger starts to chase them but they are saved by a slave. Thus begins a series of adventures for the cousins as they try to find and bring the silver cup back to Mr. Whitacker. They meet up with Telemachus and the emperor Honorious and see one of the Roman games.
Here is book 2 in the new historical fiction series from Focus on the Family for children. Written by Mrianne Hering and Paul McCusker for ages 7 and up with a grade level rating of 2.3.
The story line moves quickly and keeps the reader's attention as the characters move through many different scenes and meet a variety of people.
My 11, 9, and 7 year old children each read and enjoyed this Christian fiction book. The story line was interesting and included some details of what ancient Rome was like. I give this book four stars and my children each give it two thumbs up. This book would be a great addition to an ancient Rome study.
I received a free copy of this book from Tyndale House Publishers in order to write this review and have shared my honest opinion.