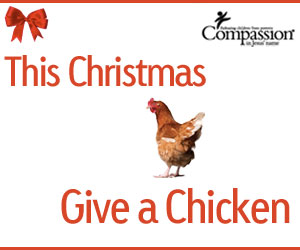 Here's the Christmas gift catalog from Compassion.
The most surprising item I just found was a playground for $25.00. Our money goes much further in foreign countries.
I would pack my
chickens
up and ship them to someone in need if I could, since they won't behave and stay out of my garden. For $16.00 I can provide someone with chicks and the help to get them off to a good start. Can you imagine the difference a chicken can make to the family in poverty? My compassion child excitedly wrote to me about the hen he was able to buy with the family gift we sent. I imagine him taking great care of her and being proud to add fresh eggs to the family's food supply.
My favorite gift is a
Bible
for $5.00. I would like to give eight Bibles, one in honor of each of my children. Our children receive their own Bible when they learn to read and it is one of their most cherished possessions. I have often wondered if my compassion child has his own Bible. I hope so.
As a gardener, another of my favorite gifts are
seeds for $10.00
. Not only does this cover seeds but fertilizer, training, and any tools they need. I know this can make a huge difference in a family's budget. My compassion child's parents are farmers and I'm sure he often helps out to provide for the rest of his family.
Which gift would you choose to give? I wish I could give one of each!
I think the best gift of all would be to
sponsor a child
. It does make a difference in how they will grow up and will help them escape poverty to raise their own family in a better environment. They will also learn about God and His word which is even more important.