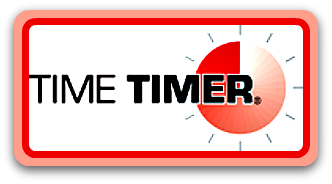 Time Timer
is a nifty little(larger sizes are available) timer which is useful for many situations in which you need to keep track of time. We used it daily in our homeschool to track quiet reading time. My son used it when he took his practice SAT. Other school applications would be timed tests, to time how long 'till lunch break or recess, and a timed clean up.
My children like to use it for reading time because they can easily see how much time they have left without disturbing anyone. When you set the timer the minutes to be timed have a transparent red plastic piece which covers them. It is like a highlighter for the timer. As the minutes pass the red piece moves slowly behind the face of the clock until it disappears and then the timer gives off two quiet beeps. You can also turn the beeper off if you choose. There is a cover which can be snapped over the face of the timer or it can be moved under the timer to serve as a base. The cover protects your timer when it is not in use or if you want to take it with you.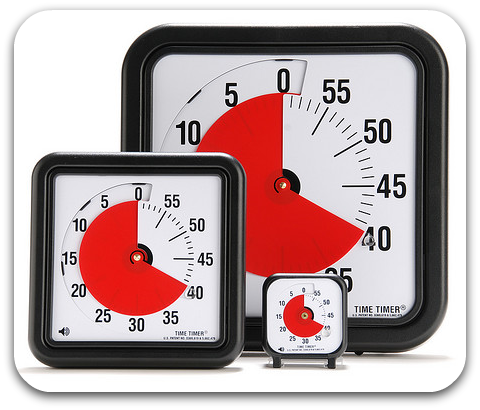 This is such a simple idea but we love our Time Timer! The benefits it has over a regular timer are that is is easy to see how much time is left, the cover protects if from damage, if you set the wrong amount of time you can reset it without damaging the timer.
Time Timer takes one AA battery and times from 1-60 minutes. To use just move the plastic bubble attached to the red disk to the desired time.
We also used this timer outside of the homeschool for chore time. It would be a great visual reminder for how much computer or TV time someone has left. And you could use it in the kitchen when you are cooking.
3" Time Timer
Even my youngest students(3&5) understand how it works and can see their time for work or play running out. It is a visual reminder of time and how quickly(or slowly) it passes.
I found this timer to be sturdy and it stood up to daily use by my less than careful children. It was knocked over many times and still works great. My 3 year old even got ahold of it a few times and it still survived. If you use timers in your homeschool or home you would probably find the Time Timer useful. My favorite thing about it is that it put an end to the "Mom, how much time is left?", disruption we were experiencing a few times per day!
To purchase visit the Time Timer website
.
3" $30.00
8" $35.00
12" $40.00
I received a free 3" Time Timer in order to write this review and have shared my honest opinion. If you would like to read more reviews, please visit
TOS Homeschool Crew blog
.