I received the
Grade 2 Complete Math Curriculum
to review from
Math Mammoth
. It includes the student worktexts, answer key, tests, reviews, and a worksheet maker. Worktext 2A covers halves, fourths, and other parts, clock, addition and subtraction facts, carrying, borrowing and coins. Worktext 2B includes geometry, fractions, place value to 1000, mental math, measuring, regrouping with 3 digit numbers, and multiplication and is 151 pages long.
The subjects in Math Mammoth are not taught using the spiral method, in which something new is taught and constant review is given in each lesson. In Math Mammoth the child learns a few topics at a time and studies them well before moving on to new topics.
Each chapter begins with an introduction written to the teacher which explains what will be studied and breaks the section into lessons of 1-3 pages each. Internet resources are also listed for further help and study ideas.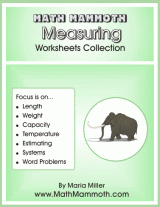 My 7 year old daughter helped me review Math Mammoth. We received the ebook version so after printing it out we were ready to begin. The pages are clean and simple. My daughter hasn't worked on any math besides math facts but after a quick explanation she was able to get to work. We went a little slower and only did one page a day.
I found this program quick and easy to teach. The topics are covered in a logical manner and progress from simpler to more difficult. Review pages are also included which you can use to make sure your child understands the concept he has just learned.
Having the chapters broken down by concept makes it easy to spend more time on anything my child is having a hard time understanding. I like having the resources available in a list and ready for me to explore if my daughter gets stuck or needs more practice. Many of the resources are games which will make further practice more enjoyable.
Overall, I think this is a well-though out program which is easy to teach. Math Mammoth also has
supplemental math books
available for grades 1-12 if you are looking for a certain topic. You can also order sets of worksheets by topic and grade.
Math Mammoth Light Blue Series, complete math curriculum for grades 1-6
Downloads-
Full Set $34.00
First Half of curriculum $17.50
Second Half of curriculum $17.50
CD-
Full Set $39.00
Print Copies
Part A $13.95
Part B $13.95
Answer Keys $13.95
Tests and Reviews $12.59
I received a free copy of this product in order to write this review and have shared my honest opinion. If you would like to read more reviews please visit the
TOS Homeschool Crew blog
.