Wits and Wagers Family
from
NorthStar Games
is a fun family game for ages 8 and up and for 3 - 10 players. It is a trivia style game with a twist. All of the answers are numbers so even the youngest players are able to make a guess at an answer.
Sample questions and answers:
Q: How many holes are in a wiffle ball?
A: 8- The holes are only on one side of the ball to help make it curve.
Q: What is the most number of push-ups completed in 1 hour?
A: 3,416- This record was set by Roy Berger, a Canadian, in 1998.
Q: How many times does a honey bee flap its wings in 1 second?
A: 230- In 1934, a French scientist calculated that bee flight was "aerodynamically impossible."
To play:
Each player or team gets one of the five mini white boards, a dry-erase pen and two Meeples. The board and Meeples for each player are a different color. The question is read aloud(a different player reads the question for each round) and the players write their answers on their boards. The boards are lined up from the least to the greatest answer. Then everyone places their Meeples on the answer they think is correct. The Meeples can be placed on more than one answer so, including the answer on your board you have three chances to get points for the correct answer. Then the answer is read and whichever answer is closest without going over is awarded points. A dry-erase score board is included to award points to each player. Whoever completes his line on the score board first wins the game.
This game was so fun to play! My whole family really enjoyed playing together. Each game takes about 20 minutes to play which we found to be about perfect with the many different ages in our family. One night we asked my husband to play with us and we ended up playing three times in a row!
There are many question cards with 2 questions on each so, it will take many games before we see the same question again. The questions were interesting and on many different topics. The answers also include an explanation so as you play you also learn something new.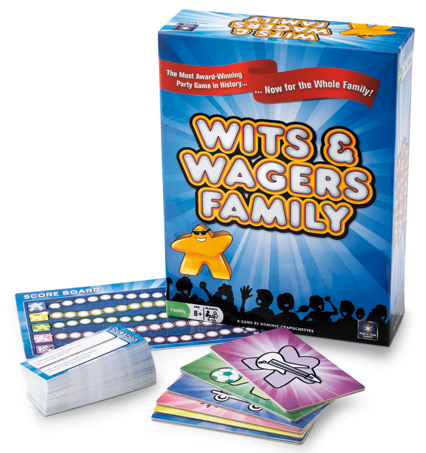 If you are looking for a fun family game I recommend Wits and Wager Family!
To purchase visit the
NorthStar Games website
and enter your zip code to find a store near you that sells NorthStar Games.
Or order on the web from
NorthStar Games(through Amazon)
.
$15.23
As a TOS Homeschool Crew member I received a free copy of this game in order to write this review and have shared my honest opinion. If you would like to read more reviews of this game please visit
TOS Homeschool Crew blog
.