Classical Phonics, a child's guide to word mastery
, is
Word Mastery
by Florence Akin(published in 1913) updated by Cheryl Lowe. Cheryl updated the pictures and changed the way the book is organized so it will be more user friendly to today's modern students. I have used
Word Mastery
and I think Cheryl's updates are nicely done without losing the simplicity from the original book.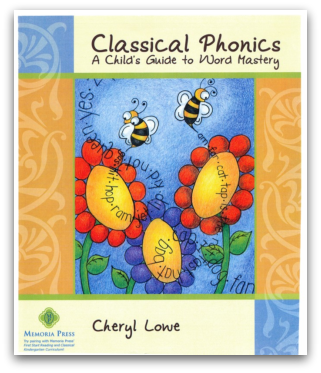 The colorful cover and size make this book appealing to my five year old son. We are using it each day at the beginning of our phonics lesson to review the sounds my son has already learned and the words he can read. It is a book that we will be using daily for at least the first year of his phonics instruction.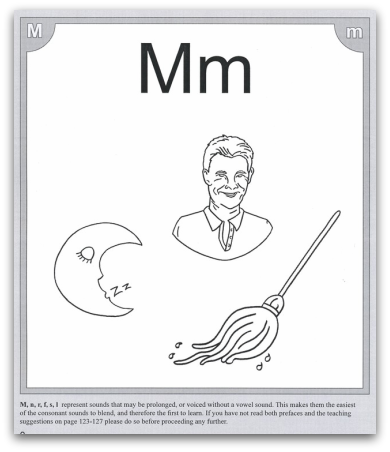 First Start Reading by Cheryl Lowe
takes Florence Akin's phonics instruction suggestions to an easy to use workbook format. Daily work includes ear training, phonics instruction, and letter formation. Most lessons include coloring or drawing a picture.
I think the cover design is sweet and cheerful.
The
Teacher's Guide
contains clear instructions on using the workbooks. Each lesson is scripted so you know exactly how to instruct your student and don't forget to include any elements of daily work.
Let's do our Phonics lesson! First he reads Classical Phonics.
The appendix includes helpful charts which can be hung up by the child's work surface to remind him to read from left to right, the vowels, how to hold his pencil, and a picture to help him avoid mixing up "b" and "d".
Now, he's reading his lesson in First Start Phonics Book A.
I love this phonics program! The pictures are simple and there for a purpose so they do not distract the student from his lesson. I thought the inclusion of a picture to draw or color was a nice close for each lesson. My son, Isaac, enjoyed his daily lessons. They were just the right length, with each new lesson being an easy step up from the day before.
Letter formation
My son is progressing well in his lessons but if he starts to struggle an extra practice session or two with Classical Phonics each day would help him catch up. Every few days I ask him to bring his book and read to Dad which is a great confidence builder. He also likes to share the pictures he draws and colors in his workbook. When he reads Classical Phonics I emphasize to him that he is reading and point out all of the words he already knows.
I recommend this phonics program as a great way to teach reading. Everything you need besides a pencil and pack of crayons or markers is included! You don't need any teaching experience to use
Classical Phonics
or
First Start Reading
. The instructions included in both will have you teaching phonics right away and with confidence.
*Each workbook takes 7-10 weeks to complete(there are 3 in the set)
*Consonants, short vowels, 45 common words, and manuscript printing are included in this program
Purchase Classical Phonics for $14.95 from Memoria Press
Purchase First Start Reading with the Teacher Guide for $29.95 from Memoria Press
The student set is $22.00
As a member of TOS Homeschool Crew I received a free copy of Classical Phonics and First Start Reading in order to write this review and have shared my honest opinion. If you would like to read more reviews please visit
TOS Homeschool Crew blog
.