Tri-Cross
is a fun strategy game for ages 10 to adult which marries elements from Chess and Checkers into a new and unique experience. Tri-Cross sells a travel version and a board game. The travel game, Eco-Edition, is played by the same rules but is portable as the board is made of fabric and can be folded up. Eco-Edition fits into a convenient sized pouch which can easily be transported in a backpack or medium purse.
The board game consists of a board which holds in half and a pouch full of square plastic pieces. There are six red and six black pieces numbered from tri-cross(1)-6. There are also 4 green and 4 blue pieces numbered tri-cross, 4, 5, and 6. The green and blue pieces are used when 4 people play, 2 to each team.
There are two ways to play this game. It is recommended that you start with the face-up version. You use all six red and black game pieces with the numbers facing up. The pieces are moved forward, backward, and side to side. When you approach your opponent's piece you must jump and capture it if possible. The larger number captures the smaller number, except the tri-cross which can only capture the piece numbered six. The object of the game is to remain in the tri-cross square which is in the center of the board for 3 turns or to capture all of your opponent's pieces.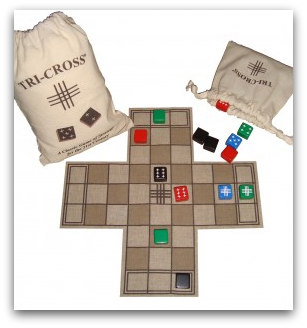 Eco-Edition, which is also travel friendly
We have not tried playing this game with the standard rules as we found the easier version challenging enough for now. In the standard version the pieces are placed face down and not turned over until a capture is to be made. This sounds extremely fun and challenging! You can also play on teams with the standard rules.
We loved this game. The pieces are of a nice quality, the instructions are clear and it came with an instructional DVD to help us get started. There are also support videos at the
Tri-Cross website
. My younger children(5&7) were able to play the face up version which has made this game a great favorite as everyone except our 3 year old can play it. The children have asked almost every day to play!
"It's awesome!"~ Hannah, 11 & Sarah, 7
Sarah(7) is helping her 5 year old brother learn to play Tri-Cross.
I like the strategy and thinking required by Tri-Cross. It doesn't get boring because each time you play you will face new challenges, especially as your opponent becomes a better player. It only takes 15-20 minutes to play so the interest of the younger children doesn't wander and everyone can have a turn.
If you are a fan of Checkers or Chess I think you will also love this game. Tri-Cross is a new classic! To read more reviews please visit
TOS Homeschool Crew blog
.
Purchase
Tri-Cross
Standard Edition $24.95
Wood Edition $35.95
Eco-Edition $19.95
As part of TOS Homeschol Crew I received a free game in order to write this review and have shared my honest opinion.