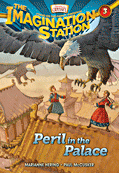 In book 3 of the Imagination Station series, cousins Beth and Patrick visit ancient China to search for the golden table of Kublai Khan. They have to find the tablet in order to save Mr. Whittaker's relative Albert whom he met when he traveled back in time to England.
During their visit they meet Mongol warriors, Marco Polo, and Kublai Khan. They also see the great wall of China, a Mongol camp, and Shangdu city. The story ends when the cousins go into the time machine and come out in a cave in another time period instead of Mr. Whittaker's workshop.
This story was fast paced with lost of action. In the story we learn a little about ancient China and what it would have been like to live there. It was interesting to read about the superstitions of the Mongols and their view of Christianity. The end of the story leaves you wishing for the next book and the conclusion to the mystery of why Albert is in trouble.
There is a secret word puzzle included in the back of the book which is a fun reading comprehension exercise. When you type the secret word in at the Imagination Station website you receive a prize.
I recommend this book for anyone who is looking for a fun adventure story based on Christian values for their young readers to enjoy. The reading level of Peril in the Palace is listed as Grade 2.1.
I received a free copy of this book from Tyndale Media Center in order to write this review and have shared my honest opinion.