Bright Ideas Press
We received Wondermaps by Bright Ideas Press to review. It is a map generating program for the computer. There are over 350 customizable maps included in the software. More than 60 world maps and over 60 maps of the United States included along with 125 historical maps, 25 of which are Biblical.
The maps are put together in layers so you can remove information from each one, if you desire, and then print the map you need.
The maps are divided into four different categories as listed below:
1. The World, Continents, Regions, Nations(also listed alphabetically)
2. United States of America(also listed alphabetically)
3. Historical Maps(also listed chronologically)
4. Thematic Maps(also indexed thematically)
The program also has the maps used with The Mystery of History and All American History. There is a section for each book with the maps listed in order of use. Just hit print and you are ready to complete your history lesson.
A Teacher's Guide is included in the software to help you get the most out of your purchase.
It includes:
Quick Start Guide
Tutorial Video
User Manual
Bonus Workshop MP3's- Loving Geography and Packing a Punch with Timelines and Maps
50 Bright Ideas for Using Outline Maps
The 5 Themes of Geography
How To Make A Salt-Dough Map
History and Geography
16 Easy Mapping Projects
Joseph's Journey(sample unit)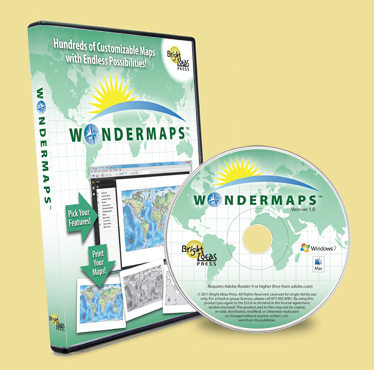 We have been studying Ancient Egypt and I hadn't taken the time to copy a map from The Mystery of History Volume I to pass out to my students. I decided to explore the process of finding the perfect map using Wondermaps. Usually, I would search the internet for what I wanted and settle for whatever I could find or make a copy from my blackline masters book. Instead I brought Wondermaps up and clicked on the World tab and then chose Africa from the map that appeared on my screen. From there I clicked on Egypt and received a detailed map of the country which includes labeled lines of latitude and longitude, borders, country names, city/town locations and names, rivers and their names, terrain text and a color overlay. Since I didn't want to overwhelm my students with too much info I removed the map grids and city/town locations and names. I also removed the color overlay because we are almost out of color ink. I printed the map and received a nice black and white map which was shaded to show the land details and add interest to the oceans.
After I was finished I decided to check out the historical maps. I clicked on Historical Maps and then The Ancients tab which covers Creation to 33 A.D. Ancient Egypt was close to the top of the list and after I clicked it a simple three color map with countries, oceans, and rivers popped up. The references and rivers are removable which would make it easy to use the map as a fill in the information quiz.
Check out the video below to see Wondermaps in action. This video will show you how the program works and the many ways you can customize the maps.
I like this program. It is easy to use and includes so many options to create the map you need. The option to simplify each map makes them perfect for the lower grades while included more details is helpful for Jr. High and Sr. High students. The included Teacher's Guide will provide many ideas for making the study of Geography more interesting for my students. It is more convenient to use than searching my bookshelves or the internet for the right map and I know I will be using if for many years to come.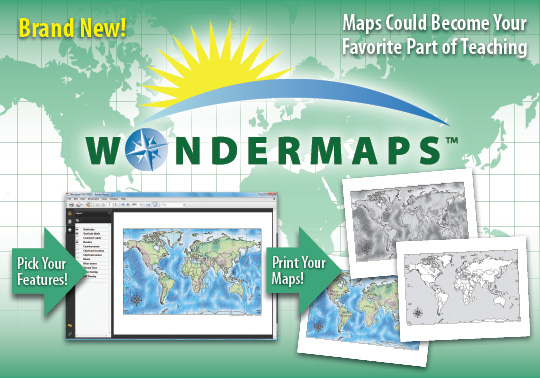 I would recommend Wondermaps for anyone looking for an easier way to incorporate maps into History and Geography studies.
Purchase from
Bright Ideas Press
for $49.95.
Available as a Cd
Or Download instantly from the website
I received a free copy of this product in order to write this review and have shared my honest opinion. To read more reviews visit
TOS Homeschool Crew blog
.