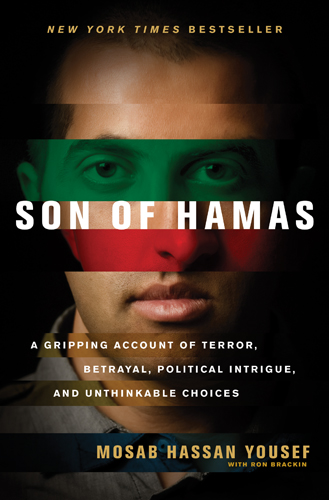 Mosab Hassan Yousef
takes us on a journey through his life. We begin with his grandfather and father and the influence they had over those around them. He shows us how his father became an influential leader in Hamas. He shares the hardships his family went through each time his father was put into prison which was for most of Mosab's childhood.
One day Mosab gets picked up by the Israelis and is imprisoned where he makes a deal with Israel's Internal intelligence service. He helps to avert some of the mindless bloodshed he hates. Mosab is able to keep his father safe and out of prison and enjoys working beside him even though he is giving intelligence to Israel. He and his father meet with some of the most influential leaders in the region and he explains some of the major events that happened in the last few years.
He meets a Christian one day and starts going to Bible studies which puts him on the path to eventual faith in Christ.
After many years he decides to leave his country and is now living in the United States and sharing his story with others in the hope that this new knowledge of the conflict will help to end it.
I was fascinated by this book. It opened my eyes to many things I hadn't know about the fight over Israel and the religion of Islam.
I think Mosab is right about his understanding of the struggle over the land of Israel. He explains it from his viewpoint which is that of the son of a high ranking Hamas leader and someone working with Israel intelligence. He also questions everything that he believes when he begins the journey towards Christ.
I would recommend this book to anyone wanting to see this conflict from the inside. I am encouraging my sons to read this book so they can understand more of our world and the conflicts different cultures can have.
The sense of freedom Mosab says he has now that he has left his country is hard to understand because we are used to it but after taking this journey with him I understand it more. I also appreciate the freedom I have to worship God without having to keep it a secret.
I received a free copy of the book from Tyndale in order to write this review which is my honest opinion.